Accommodation
Guesthouse "Rodi" provides a great view to the towers of mountain "Astraka" and also to the beautiful "Papigo". The warm atmosphere, the endless view and the facilities combined with the excellent service create a unique experience for the guests.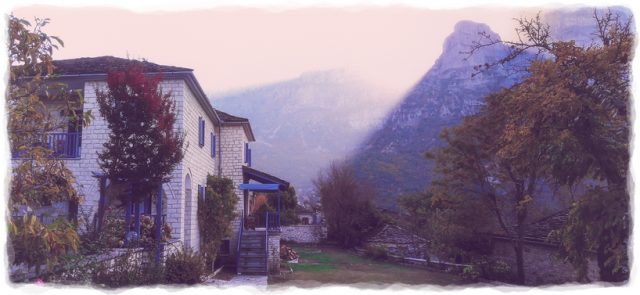 On the ground floor, there is a tasteful lounge with a fireplace where guests can have their coffee and relax. In the big paved courtyard as well as the balcony guests will have moments of serenity. Breakfast is served daily in the lounge, including among others homemade marmalades.
Every room has its own name painted on the door and a traditional decoration. Guesthouse "Rodi" provides 3 double rooms and 2 triple rooms. All rooms have comfortable beds, heat, bathroom and free Wi-Fi.
Rooms
On the ground floor is the triple room "Drakolimni". It has a lovely view of mountain "Astraka". The comfortable stairs of the guesthouse lead to the other four rooms. On the upper floor are the triple room "Tymfi" and the double rooms "Astraka", "Vikos" and "Antalki".